來自英國利物浦官網kuyt的新聞

from The Liverpool FC UK
http://www.liverpoolfc.tv/news/latest-news/kuyt-i-m-a-battler


9th Jul 2010 - Latest News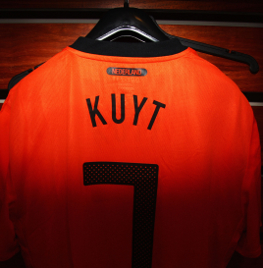 Dirk Kuyt has explained why he has no qualms about being recognised for his work-rate rather than flair, insisting: 'I'm a battler.'

The Liverpool forward's robust displays have proved crucial in Holland's surge to the World Cup final - a point highlighted by Dutch legend Johan Cruyff earlier this week.
And while Kuyt may not grab the headlines like teammates Wesley Sneijder, Robin Van Persie and Arjen Robben, the 29-year-old is happy to do whatever is necessary to serve his side.
"There are players who can change the course of a match with a single touch and others who are there to serve the team," said Kuyt.
"I have no problem admitting I'm in the second category. I try to do what I can to win each match. I'm a battler.
"Every match is equally important to me, and if you win all the time, the titles will eventually come. That's how I see things, anyway."
Meanwhile, Kuyt admits to being overwhelmed by the support he and his Holland teammates have received en route to Sunday's final showdown with Spain.
The Reds' No.18 has been inundated by emails and text messages - so much so, in fact, he claims it feels like the 'whole world' is backing the Oranje.
He said: "It's very difficult to say how our performance has gone down with the Dutch public and around the world, but if I was to judge it by the emails and texts received, I would say the whole world is supporting us."